This verification will also be used to recover your account when your password is lost and also alert unusual sign-in attempts into your account and prevent unauthorized access to your Office 365 services. 
You will be asked to register verification methods during a login attempt if this is not set up in the first place. 
 If multiple options are available, we strongly recommend that you use more than one as your security verification method, in case one of your methods becomes unavailable.

After you select and set up your methods, choose Finish to complete the process.
Step by Step instructions:
1. Log in to Microsoft 365 using this link https://login.microsoftonline.com/?whr=ad.bridgeport.edu.
2. Enter your UBNet credentials to log in.
3. If you have not set up the recovery options, you will be prompted to do so at this point. Otherwise, click this link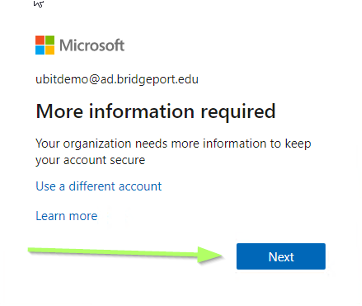 4. Proceed to the next screen. Once on this page, follow the indicated instructions and set up the recovery methods by clicking the individual Set it up now links. 
Updating your existing recovery options
1. You can update an existing security method by logging into your profile at https://login.microsoftonline.com/?whr=ad.bridgeport.edu.
Click on the profile icon on the very top right corner and then 'View account'.
2. Click 'Update Info' under Security Info to continue to the verification options.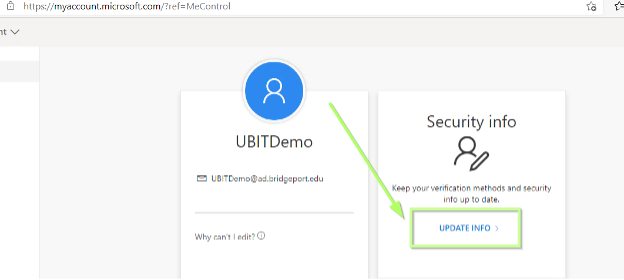 3. Click "Add Method" to add an additional method or you can also click 'Delete' to remove the existing method.